AMARANTH: Easy to cook and gluten-free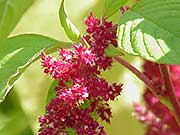 I am researching and testing different food supplements with the intention of adding the best of the lot to my product line. The fifth product on my review list is amaranth. Your opinions are very valuable and I encourage you to assist me in making my final selection by casting your vote in my online poll (see right sidebar).
Amaranth is the common name for more than 60 species of the amaranthus plant that often displays bright purple, red, or gold flowers on its very tall (up to 7 feet) support system. The amaranthus variety that was first consumed as a food source thousands of years ago is related to the summer annual known as pigweed. While amaranth prefers to grow in high elevations over low, the plant is highly adaptive to different soil conditions and climates. Native to Peru, amaranth cultivation has spread across the globe to Mexico, the United States, India, Nepal, China, Russia, Thailand, and Nigeria.
Amaranth is considered a pseudo-cereal because it belongs to a different plant species than oats, sorghum, wheat, or other cereal grains. As an edible food, the tiny, one millimeter seeds of amaranth are typically ground into a flour for use in breads, cookies, pancakes, cereals, granola, and noodles. The grain can also be popped like popcorn or flaked like oatmeal.
There are several reasons to consider amaranth as healthy food option.
Amaranth is a protein-rich (13-14%) grain that is endowed with lysine, an essential amino acid that is either lacking or in limited quantity in other cereal crops. Rich in fiber and low in saturated fats, amaranth contains large amounts of calcium, iron, magnesium, phosphorus, and potassium. Unlike other grains, amaranth also contains Vitamin C.
Researchers at the University of Guelph in Ontario, Canada, found that amaranth can be a dietary source of phytosterols, which have cholesterol-lowering properties. Amaranth is also a gluten-free food, which is especially noteworthy for individuals who are gluten-intolerant and susceptible to Celiac disease.
Lastly, cooking amaranth is easy! Just follow these steps:
• Measure your grains and water
• Boil water
• Add grains
• Gently boil the mixture and occasionally stir for 15-20 minutes
• Drain, rinse, and enjoy!
Word of advice: Don't skimp on water! Amaranth releases lots of starch during the boiling process. A rule of thumb is to use about 6 cups of water for every cup of amaranth. Cooked amaranth never loses its crunchiness completely, but rather softens on the inside while maintaining enough outer integrity so that the grains seem to pop between your teeth.
Certificate of Analysis
I contacted a North American supplier who provided me with a current Certificate of Analysis (DHH/FDA #18575301908) of its Amaranth powder. Below is a summary of the key data points:
IDENTIFICATION
Product Name: Amaranth (Flour) Powder
Botanical Name: Amaranthus Hypochondriacus
Origin: Peru
Part Used: Seed
Manufacture Date: 02-2014
Expiration Date: 02-2017
ANALYSIS
Moisture: 10.0% (specification) 7.0% (result)
Heavy Metals: ≤15 ppm (specification) ≤10 ppm (result)
MICROBIOLOGICAL
Yeast: ≤1,000 cfu/g (specification) 100 cfu/g
Mold: ≤1,000 cfu/g (specification) 100 cfu/g (result)
E. coli: Absent/10 g (specification) Absent/10 g (result)
Salmonella: Negative (specification) Negative (result)
Pesticides/Herbicides: Meets Fed St (specification) Meets Fed St (result)
This product is Non-GMO.
This product is not treated with ETO, nor is it Gamma irradiated.
Dated: April 20, 2015
References
Amaranth
From Wikipedia, the free encyclopedia
https://en.wikipedia.org/wiki/Amaranth
Amaranth – May Grain of the Month
Whole Grains Council
http://bit.ly/1HDOeC0
Amaranth – Alternative Field Crops Manual
D.H. Putnam, E.S. Oplinger, J.D. Doll, and E.M. Schulte
Center for Alternative Plant & Animal Products, Minnesota Extension Service, University of Minnesota, St. Paul, MN
Departments of Agronomy and Soil Science, College of Agricultural and Life Sciences and Cooperative Extension Service, University of Wisconsin – Madison, WI
http://bit.ly/1gmMCTe