GUAYUSA: Better Than Coffee Or Energy Drinks?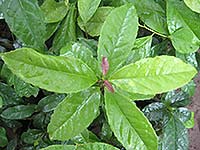 I am researching and testing different food supplements with the intention of adding the best of the lot to my product line. The fourth product on my review list is a tea leaf called guayusa (pronounced gwhy-you-sa). Your opinions are very valuable and I encourage you to assist me in making my final selection by casting your vote in my online poll (see right sidebar).
Guayusa (botanical name: Ilex guayusa) is a holly tree grown almost exclusively in the Amazon Rainforests of Ecuador that requires no fertilizers of any kind. After harvest, its leaves are dried and brewed into a highly stimulative, tea-like beverage.
Historically brewed and consumed in the early morning hours when workers and families begin their day, the Kichwa of South America have been enjoying the benefits of guayusa for thousands of years and it's just starting to become known and popular in the West.
Containing as much caffeine as coffee (about 3% by dry weight), guayusa is naturally enriched with theobromine (commonly found in chocolate), L-theanine (a glutamic acid analog that may reduce physical and mental stress), and chlorogenic acid (a plant compound that may slow the release of glucose into the bloodstream after a meal). Guayusa is endowed with polyphenols which are a key component of antioxidants that neutralize free radicals and prevent premature aging. As a point of reference, guayusa contains twice the amount of antioxidants as green tea (58μM per gram versus 28-29μM per gram).
The energy boost derived from drinking guayusa is comparable to what you would get from consuming coffee or an energy drink, without the downside risks of feeling overstimulated or burned out by the caffeine. Indigenous hunters in the Amazon refer to guayusa as the "Night Watchman" because it helps to sharpen their instincts and stay awake all night. Devoid of tannins, guayusa tastes fruity and sweet, rather than astringent and bitter.
While there are very few published studies on the possible medical benefits of guayusa, one study suggests that ingesting guayusa may help reduce hyperglycemia and other side-effects of Type 1 diabetes.
Guayusa is brewed in the same manner as other herbal teas. Steep the leaves in freshly boiled water for one to five minutes, depending on the beverage strength that you prefer. While you can start out by steeping a tablespoon of guayusa leaves in 4-6 ounces of water, feel free to experiment with your leaves-to-water ratio until you find a combination that you like. Drinking guayusa on an empty stomach won't trigger a stomach ache, and the guayusa leaves can be brewed multiple times before their flavor starts to dissipate.
Certificate of Analysis
I contacted a North American supplier who provided me with a current Certificate of Analysis (DHH/FDA #18575301908) of its Guayusa leaves. Below is a summary of the key data points:
IDENTIFICATION
Product Name: Guayusa Powder
Botanical Name: Ilex Guayusa
Origin: Ecuador
Part Used: Leaves
Manufacture Date: 06-2014
Expiration Date: 06-2017
ANALYSIS
Moisture: 8.0% (specification) 7.5% (result)
Heavy Metals: ≤15 ppm (specification) ≤15 ppm (result)
MICROBIOLOGICAL
Mold: ≤5,000 cfu/g (specification) 2,500 cfu/g (result)
E. coli: Absent/10 g (specification) Absent/10 g (result)
Salmonella: Negative (specification) Negative (result)
Pesticides/Herbicides: Meets USP St (specification) Complies (result)
This product is Non-GMO.
This product is not treated with ETO, nor is it Gamma irradiated.
Dated: April 20, 2015
References
Ilex guayusa
From Wikipedia, the free encyclopedia
https://en.wikipedia.org/wiki/Ilex_guayusa
Guayusa | Runa
http://runa.org/guayusa/
Ecuador's "Superleaf" Tea: Could It Replace Your Afternoon Coffee?
By Emma Weissmann, National Geographic
July 4, 2014
http://bit.ly/1CwWs9F
Have You Ever Tried Guayusa?
Max Falkowitz, Editor
Serious Eats
April 15, 2012
http://bit.ly/1GuJCue
Chlorogenic acid
From Wikipedia, the free encyclopedia
https://en.wikipedia.org/wiki/Chlorogenic_acid