Maqui: An Antioxidant Powerhouse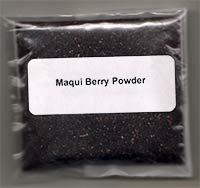 I am researching and testing different food supplements with the intention of adding the best of the lot to my product line. The third product on my review list is a powder called maqui (pronounced mah-kee). Your opinions are very valuable and I encourage you to assist me in making my final selection by casting your vote in my online poll (see right sidebar).
Maqui (botanical name: Aristotelia chilensis) is a purple-colored berry native to southern Chile and northern Argentina that has attracted a great deal of interest in the alternative health community due to its antioxidant and anti-inflammatory compounds. The maqui berry contains anthocyanins, which are purple pigments that exhibit powerful antioxidant characteristics. Maqui contains an anthocyanin called delphinidin, which is also found in Concord grapes. What sets maqui apart is that it contains very large amounts of these delphinidin compounds. The delphinidins possess potent anti-inflammatory characteristics, so they can help to reduce the risk of degenerative diseases that involve inflammation. As stated on the National Institutes of Health website:
The role of anthocyanin pigments as medicinal agents have been well-accepted dogma in folk medicine throughout the world, and, in fact, these pigments are linked to an amazingly broad-based range of health benefits.
While there is limited research about the specific benefits of maqui, proponents believe that it promotes cardiovascular health, stimulates the immune system, slows the aging process, is endowed with anti-cancer properties, fights obesity, and protects against some inflammation-related ailments such as diabetes.
When compared to other berries, maqui stands out as one of the richest sources of antioxidants available. Using the FRAP (ferric reducing activity power) method, scientists compared the in vitro antioxidant power of several fruits and berries (expressed in mmoles Fe/100g), and the maqui berry clearly topped the list:
• Maqui berry (Aristotelia chilensis): 12.3
• Blackberry (Rubus fruticosus): 3.5
• Strawberry (Fragaria ananassa): 3.1
• White mulberry(Morus alba): 1.7
• European Raspberry (Rubus idaeus): 1.6
• Black grape (Vitis vinifera): 1.3
• Kiwi fruit (Actinidia Chinensis: 0.5
• Lemon (Citrus limon: 0.3
• White grape (Vitis vinifera): 0.2
Maqui berries are sweet and bursting with flavor. Outside South America, maqui is readily available as a dietary supplement in the form of a powder, which is made by grinding the dried fruits of the Aristotelia chilensis plant. Boost your antioxidant levels by adding maqui powder to yogurt, juice, jam, or some of your other food recipes.
Certificate of Analysis
I contacted a North American supplier who provided me with a current Certificate of Analysis (Batch No: ACH/14-11-359-S) of its Maqui berry powder. Below is a summary of the key data points:
IDENTIFICATION
Product Name: Maqui Berry Powder
Botanical Name: Aristotelia Chilensis
Origin: Chile
Manufacture Date: 10-2014
Expiration Date: 10-2016
Harvest Method: Wild Harvested
ANALYSIS
Moisture: ≤8.0% (specification) 7.0% (result)
Heavy Metals: ≤10 ppm (specification) ≤10 ppm (result)
MICROBIOLOGICAL
Mold: ≤5,000 cfu/g (specification) 100 cfu/g (result)
E. coli: Absent/10 g (specification) Absent/10 g (result)
Salmonella: Negative (specification) Negative (result)
Pesticides/Herbicides: Not Present (specification) Not Present (result)
This product is Non-GMO.
This product is not treated with ETO, nor is it Gamma irradiated.
Dated: April 20, 2015
References
Maqui | WebMD
http://wb.md/1MMt8Bg
Health Benefits of Maqui Berries
Global Health Center
Published on April 1, 2013
Last Updated on Sep 9, 2013
http://bit.ly/1GZS7mq
Maqui Berry: The Newest Superfruit
By Chris Kilham | Fox News
Published Jan 27, 2011
http://fxn.ws/1d2godC
Wild Maqui Berry: A Superfood with Proven Health Benefits
HealthWithFood.org
http://bit.ly/1TvBiU3
Aristotelia chilensis
From Wikipedia, the free encyclopedia
https://en.wikipedia.org/wiki/Aristotelia_chilensis
Anthocyanins and Human Health: An In Vitro Investigative Approach
Mary Ann Lila
US National Library of Medicine
National Institutes of Health
http://www.ncbi.nlm.nih.gov/pmc/articles/PMC1082894/