What is Camu Camu?
I am researching and testing different food supplements with the intention of adding the best of the lot to my product line. The first product on my review list is a powder called Camu Camu. Your opinions are very valuable and I encourage you to assist me in making my final selection by casting your vote in my online poll (see right sidebar).
What is Camu Camu?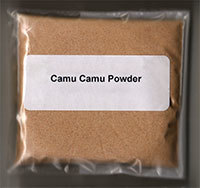 Camu camu (botanical name: Myrciaria dubia) is a light orange or reddish-purple fruit about the size of a lemon that grows on low-lying shrubs found in the Amazon rain forests.
Available outside of its native environment in powder or capsule form, camu camu is highly sought after in the nutritional health community because of its very high vitamin C content (a teaspoon of camu camu powder has 1180 per cent of your recommended daily intake for vitamin C). Camu camu also contains potassium, several antioxidants such as gallic acid and ellagic acid, and three important amino acids (valine, leucine, and serine).
Camu camu is used to treat cataracts and glaucoma as well as viral infections such as herpes, cold sores, shingles, and the common cold. Other uses include the treatment of asthma, atherosclerosis, chronic fatigue syndrome, gum disease (gingivitis), headaches, and osteoarthritis. In his study of 19 plants that have been found to contain mood-enhancing properties that are useful in treating depression holistically, nationally recognized nutritionist Gary Null ranks camu camu as #2 on his list
To offset the acidic taste of camu camu and enjoy the health benefits of the fruit, the powder is usually mixed with a sweetener, diluted in milk or water, or included in recipes that use a blender. Ice creams and drinks flavored with camu camu are popular in Peru.
Potential Side Effects
Some individuals who have tried camu camu have reported that they experienced intense itching and hives or stomach cramps. Camu camu may also interfere with some chemotherapy medications. If you are on any form of medication, be sure to consult your physician first before taking camu camu or any other dietary supplement.
Certificate of Analysis
I contacted a North American supplier who provided me with a current Certificate of Analysis (DHH/FDA #18575301908) of its Camu Camu powder. Below is a summary of the key data points:
IDENTIFICATION
Product Name: Camu Camu powder
Botanical Name: Myrciaria dubia
Origin: Ecuador
Manufacture Date: 10-2014
Expiration Date: 10-2016
Certification: Kosher Certified
ANALYSIS
Moisture: ≤11.0% (specification) 6.2% (result)
Heavy Metals: ≤15 ppm (specification) ≤15 ppm (result)
MICROBIOLOGICAL
Mold: ≤1,000 cfu/g (specification) 100 cfu/g (result)
E. coli: Absent/10 g (specification) Absent/10 g (result)
Salmonella: Negative (specification) Negative (result)
Pesticides/Herbicides: Not Present (specification) Not Present (result)
This product is Non-GMO.
This product is not treated with ETO, nor is it Gamma irradiated.
Dated: April 20, 2015
References
Myrciaria dubia
From Wikipedia, the free encyclopedia
https://en.wikipedia.org/wiki/Myrciaria_dubia
Pure Healing Foods
Camu Camu
http://www.purehealingfoods.com/camuInfo.php
Camu Camu Benefits: 11 Things You Need To Know About The Fruit
By Terri Coles
The Huffington Post Canada
July 25, 2013
http://huff.to/1F4eqVn